My friend Martha is continuing with her very successful challenge of making 29 faces in one month.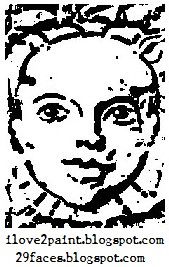 Click on the image to go to Martha's 29 Faces Challenge. Last year she did this Challenge several times on her site and it was fabulous. Me? Should I join in? Can I make a commitment to do a face every day for a whole month? Okay, I am allergic to commitments of any sort...but this time I think I need to give it a try.
I once was successful at doing a painting a day challenge for 3 entire months. Seems like a century ago that I did that! I even made a video for each of the 12 weeks that I did this. I don't have those videos anymore...maybe one remains. But it really kept me busy and highly productive, I must say.